First, it was the bike. Then, the treadmill. Now, the reformer. The appetite for connected digital fitness equipment is holding strong even now that the urgent need for at-home exercise solutions has passed. According to one market analysis, the virtual fitness market size is expected to tick upward until it's worth $187 billion by 2032. This trend collides with Pilates becoming increasingly popular: Google searches for the modality have taken a 25 percent leap from five years ago. So suffice it to say that the stage has been set for the Frame Reformer ($3,999) to emerge as the next big thing in the fitness world, offering digital classes on the most aesthetically pleasing piece of fitness equipment around.
The brainchild of Melissa Bentivoglio, a Pilates expert and the cofounder and CEO of the company, the Frame Reformer allows users to do classical Pilates, contemporary Pilates, fusion Pilates, and power Pilates with a single machine. This means you're able to ramp up and ramp down the intensity of your workouts so that you can be on the machine every single day.
"You can tailor your training in a very intuitive way to you," Bentivoglio told me after I tried a 20-minute class that left me drenched in sweat. "Tomorrow, you're going to wake up and you're going to feel your inner thighs, your pelvic floor, and your glutes. So you may want to do a softer, slower, less cardiovascular class on the Frame, but you don't have to choose a different workout, because you can have a whole repertoire of Pilates on this machine."
When I heard that Dua Lipa is a massive fan of the Frame (and was the first person in the UK to bring one home), I was intrigued. When I tried that first class with Bentivoglio, I was hooked. Keep reading to learn why I'll be investing in a Frame Pilates reformer of my own ASAP.
What Is the Frame Pilates Reformer?
Joseph Pilates, the father of the modality, created the initial reformer prototype when he was in an internment camp during World War I (yes, way). Over time, improvements have been made, and traditional reformers today consist of a single front platform with a spring-loaded system, a carriage, shoulder pads, straps, a foot bar, and many other accessories you can utilize, like balls, boxes, and the like. In the early 2000s, Sebastien Lagree created the Megaformer, the equipment used in classes for brands like Lagree Fitness and SLT; it has a front platform, a back platform, a much larger carriage, and arm and leg straps so you can work your muscles concentrically and eccentrically from different ends of the machine.
The Frame Reformer offers the types of workouts you'd get from both a traditional reformer and a more intense Megaformer. On one end sits the platform where you stand and do all your exercises; on the other end, you'll find the screen where you'll hear your instructional cues. There are straps and a foot bar, and while there intentionally isn't a back platform, the machine is smartly engineered to have a dual-spring system so that the carriage can attach to springs on the front and back. This makes it possible for you to do the same range of exercises that are available with a two-platform machine.
Now, that's the hardware. But because this machine also comes with a $40 per month subscription to its class platform, it's worth talking about the classes. Today, the platform has over 250 classes with 12 different instructors, and you can sort by instructor or different target muscles.
Frame also offers course recommendations so that as you progress, you can keep pushing yourself to meet your fitness goals. "You cannot plateau on a reformer," says Bentivoglio. "There are thousands of exercises you can do in many different ways with different tensions and weights, and so if you have that competitive spirit, it becomes something you want to get better at."
What Else Should I Know About the Equipment?
Unlike other exercise equipment at my house that I have tried to hide because it's not particularly appealing to look at, the Frame Reformer is so sleek and gorgeous that you may as well have it on display in your living room. It is made from natural wood and comes in two colorways: sunrise, a warm terra-cotta paired with raw wood; and midnight, a classic black option with painted detailing.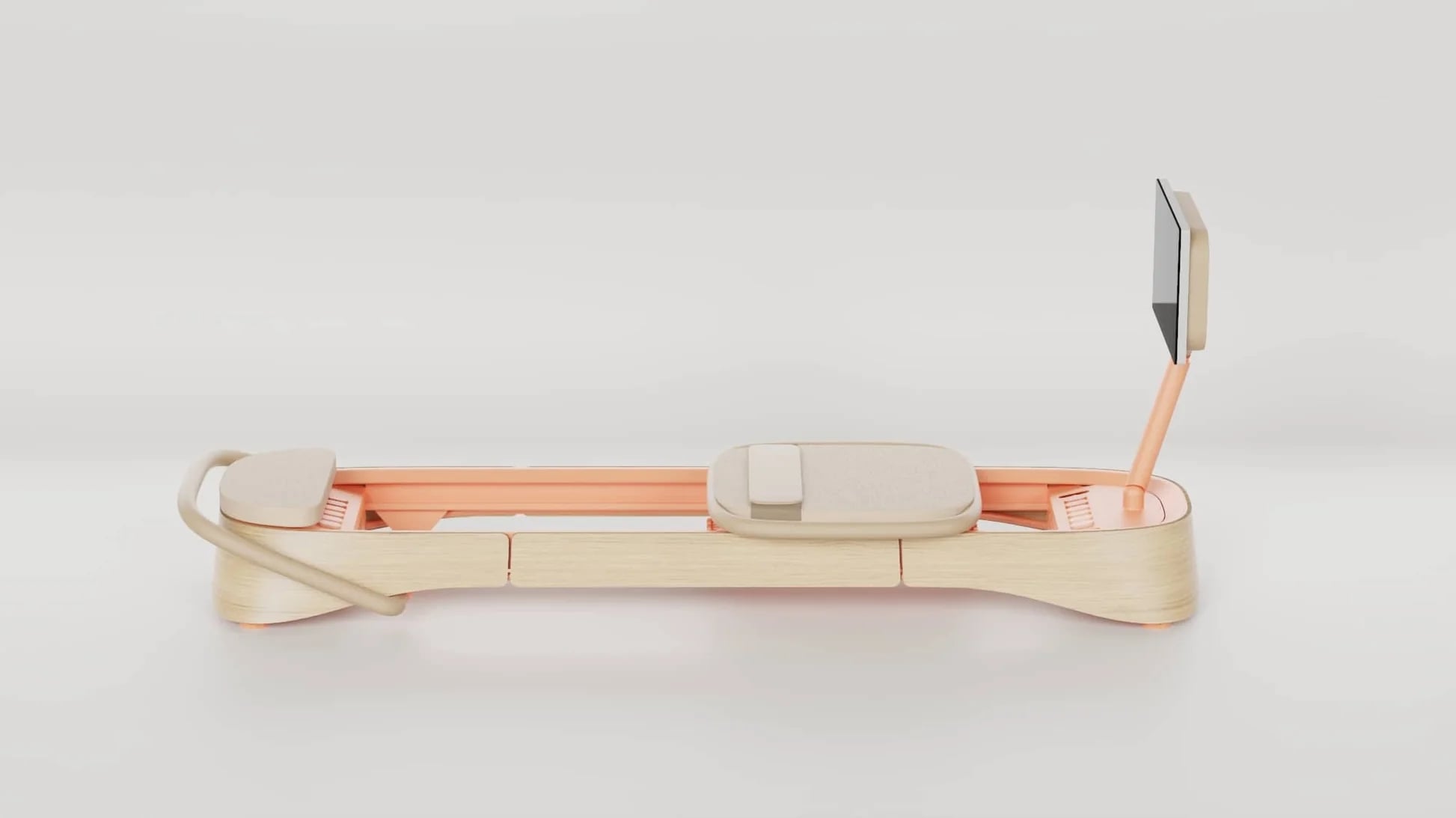 The Frame Reformer has a light footprint for a reformer, clocking in at just under eight feet long. As with any equipment, you want to leave room on the sides so that you can do exercises that are to the right and left, front and back. (Also, keep in mind the length of your arms and legs, which may extend beyond the apparatus during some exercises.) The screen goes up to three feet, but you can fold it down for storage. The whole thing is on wheels, so you can quickly move it around your home.
The Frame is as easy to use as it is to move: one of the standout features of the machine is that the springs click in and out of place with push buttons, whereas on other machines, you have to place the springs off and on manually.
And while the Frame is an at-home piece of workout equipment, you'll likely see them in more and more hotel and condo gyms, like The Londoner and Six Senses. The brand has found that many people who enjoy Pilates are intimidated by reformers when left on their own and want an instructor to cue them through sequences. So, having the machine available in hotels allows potential customers to try out the Frame and realize that they don't need their favorite trainer standing by their side IRL — the screen gives them the prompts they need. "When customers go and try it at hotels, then they'll feel comfortable and want to bring it home," says Frame cofounder Melissa Bentivoglio.
What Are the Benefits of Pilates?
Full-Body Strength
When I tried the Frame Reformer, I did an arms and core class — but I found that every muscle in my body was sore the next day. "When you're doing an upper-body exercise, you think you're isolating, but your core is stabilizing, and your inner thighs are stabilizing, your glutes are stabilizing," says Bentivoglio.
It's Good For Brain Health
New research is showing that doing reformer Pilates can help improve brain function and activate neural networks, due in part to the spatial and cognitive work that keeps you from falling from the elevated platform.
Better Posture and Core Strength
Pilates works on your postural muscles, starting at the neck and ending at the toes. It's long been heralded as one of the top workouts for your core, because stabilizing the reformer as you push and pull comes from your trunk.
How Much Does the Frame Reformer Cost?
There are two investments you'll need to plan on making.
Hardware: The machine costs $3,999; however, you can finance it with Affirm.
Software: To access the classes, you'll also need to invest in a $40 per month subscription fee (roughly the price of one in-person group session in New York or Los Angeles).
What Are the Pros and Cons?
Pros:
The myriad classes mean you get to do Pilates every day of the week and ramp up or down the intensity according to your needs.
Its thoughtful design makes storing and moving the reformer a breeze.
The reformer is easy on the eyes and comes in two beautiful colorways to suit different tastes.
The carriage glides seamlessly, no matter the workout that you're doing, to allow you to truly isolate muscle groups and get stronger.
Cons:
For those on a budget, the initial buy-in and monthly classes might be too steep.
There are beginner classes on the platform, but it might be best for true novices to take a few in-person classes to have instructors make hands-on adjustments.
Smaller apartments might not be able to accommodate an eight-foot machine.
Is It Worth It?
Yes. If you want to do reformer Pilates regularly, this is one of the most effective ways to do so without coughing up $40 to $50 every time you want to book a class. This machine will encourage consistency and help to coach you as you get stronger. Best yet, everyone in your household can use the same login.
Rating:
Image Source: Courtesy of Frame