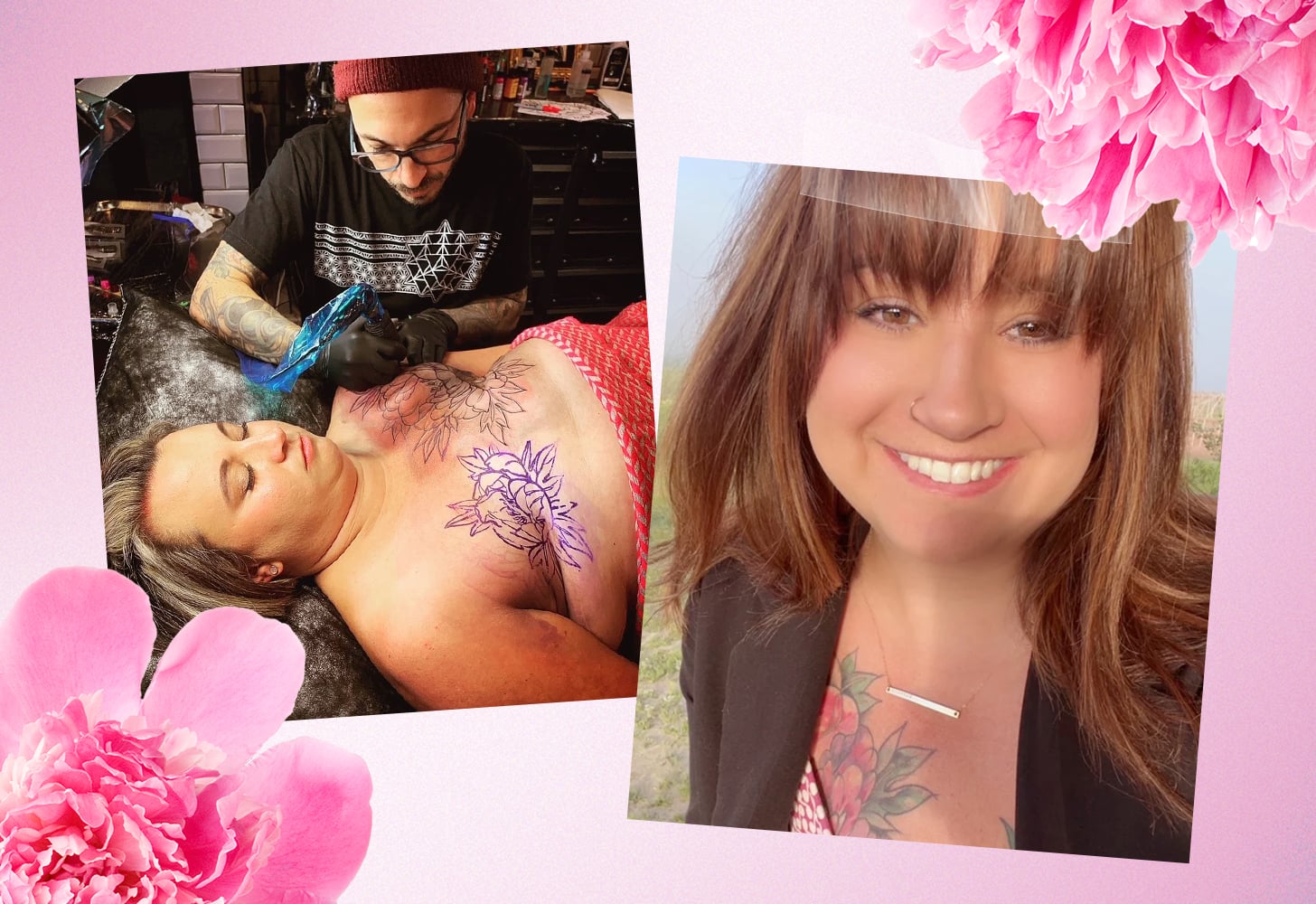 Image Source: Trish Kusal / TK Wilson Photography/ Getty / Gaby Wojciech / Photo Illustration by Michelle Alfonso
Erin Burnett, 36, got her mastectomy-scar tattoo more than three years after being diagnosed with stage II, triple-positive, invasive ductal carcinoma at 28. The breast cancer treatment and mastectomy she needed to save her life had done a number on her confidence. For years, she didn't feel like her body was her own, and her scars just reminded her of the trauma it had been through. But when she realized she could get a tattoo over the scars that reminded her of what she'd lost, everything changed. Here, Burnett shares how her mastectomy-scar tattoo helped her regain her confidence and take back her body.
When I got my breast cancer diagnosis, it had metastasized to my lymph nodes, and my skin was damaged during the radiation treatments, limiting my options for breast reconstruction.
I chose one of the few options I was given, to reconstruct with what are known as "tissue expanders," which are placed to increase the amount of tissue left over to support a future breast implant. Little did I know the expanders would be rejected by my body; I had them removed and replaced several times, and I attempted to reconstruct five times. While recovering from one of my last hospital stays and rejections, I came across these beautiful mastectomy tattoos online that I had never considered as an option before. I did some research and found an organization called Personal Ink on Facebook and learned I could apply for a free mastectomy-scar tattoo.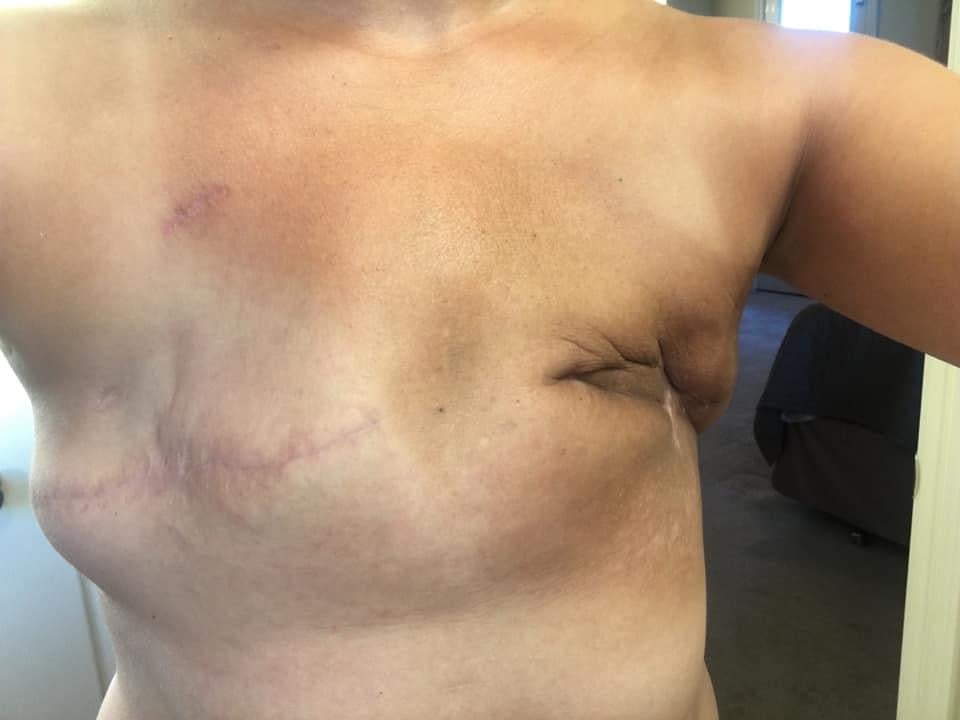 Image Source: Erin Burnett
I decided to go for it and told myself that if I was selected, I'd stop trying to make the expanders work. I was overjoyed when they called me and said I'd been chosen; I felt like I was on Oprah. My next surgery, I had my expanders removed and I didn't have them replaced.
Soon, I was matched with an artist, Sal Tino, who was kind enough to donate his time and talent for my tattoo. I told him I love peonies and have always been fascinated by how they open up when they bloom. I sent him photos of those flowers and told him that I wanted a bright, watercolor-style image, and he worked with me to bring it to life.
I remember the general experience of getting the tattoo more than I remember the pain that came with it. That day in October 2019, I showed up to the tattoo shop, and I was greeted by volunteers and local leaders who had these wonderful big smiles. There were other recipients there who'd gone through a similar journey, and they seemed just as excited and scared as I was. That day, we let our guards down with each other. As we bonded over our journeys, I felt like I was making lifelong friendships with some of them after just one day, creating a new sort of family. We did a Champagne toast before the needles came out, and then we were off with our tattoo artists, who we'd spend at least eight hours with that day. All of the mirrors in the room were covered with black paper, so we wouldn't see the finished product until the end.
While some people are numb from their previous surgeries and can dissociate during the tattoo process, I couldn't. I felt everything. It can be very traumatic and emotional for your body to be lying on your back, in the same position you were in when you got your mastectomy. Your body has this emotional muscle memory, recalling what happened to you the last time you were in this position. It was difficult to be there again, considering the last time I was lying like that, my general surgeon was holding my hand and telling me she was about to go in and get all of the cancer out of my body. But I got through it by telling myself, "Today, I get to take back my body. Today, the cancer doesn't get to have the last word. Today is for me." At the end of the day, everyone circled around me for my reveal. I stood in front of a mirror, they dropped the cover on it, and I opened my shawl, seeing it for the first time. I was crying and in absolute awe, absorbing all of the positivity and emotion around me.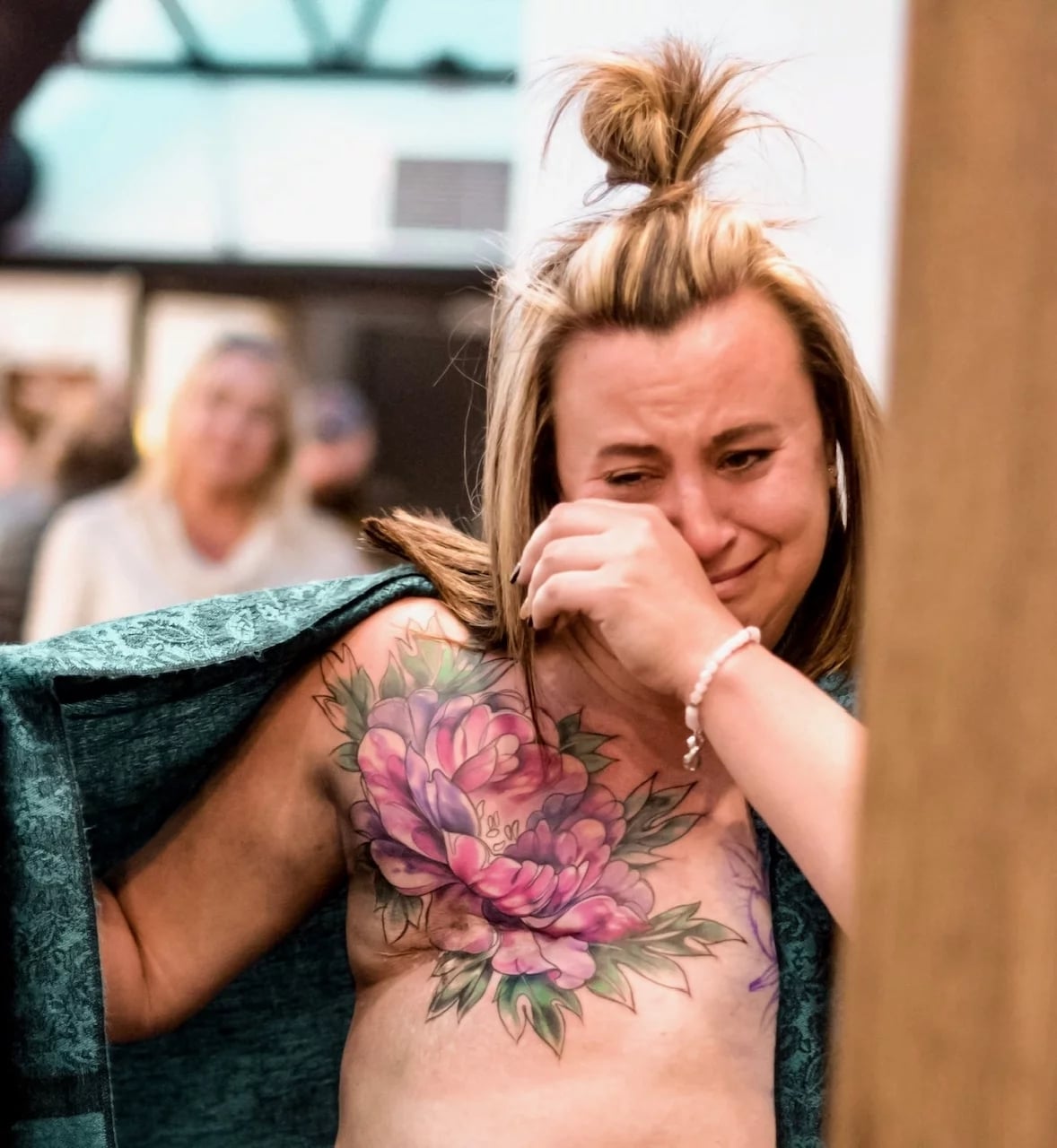 Image Source: Trish Kusal/TK Wilson Photography
Honestly, I was in shock. For the first time in a long time, I felt excited to see my body. When you go through surgeries and radiation and infections, what you see when you look in the mirror can be scary. It brings back hard memories and is a constant reminder of what you've been through. But my tattoo made me feel confident in a way I hadn't since before my mastectomy in May 2016.
Today, I hold my head up higher because of it. The tattoo I chose crawls up onto my shoulder, and I always tell people, "My cleavage is more beautiful than yours." I let it hang out, and I get a lot of questions. People tell me, "Wow, your tattoo is really cool." And I'm proud to tell them, "It's so much more than what you think it is." I can pull down my shirt and show them the full tattoo and all of the scars. I had a lot of muscle and tissue removed, and I'm a bit deformed, but it's all covered by this beautiful peony. Now, it's almost like these battle wounds I get to show off to the world.
This tattoo has been life-changing for me. Before, I was going through this dark and painful period. I'd gotten through what everyone said was the hard part, which was the active treatment. But in my mind, the active treatment was easier; you take it a day at a time. You show up; you go through chemo, radiation, and surgery. You just have to. But the healing and trying to be comfortable with the person you've become afterward is hard. People say to you, "You're good now, right?" And you're not, emotionally or mentally. You have this shell of a body that doesn't feel like it's yours. And you're just expected to walk through the streets and be this woman you were before — but you're not. You're someone different, and you've got to somehow find comfort in your own skin. You have to fall back in love with your body, because it's not the same. The artwork helped me do that and be proud of my body again. I suddenly stood differently. I wasn't closed off and hunching in to hide my chest. I was shoulders back, walking tall. It changed who I was. My family and my kids, young boys who you think don't notice anything, could even tell that I was happier. Now, when I look in the mirror, I don't see ugly scars — I see beautiful artwork and bravery.
— As told to Molly Longman
This interview has been condensed for length and clarity.