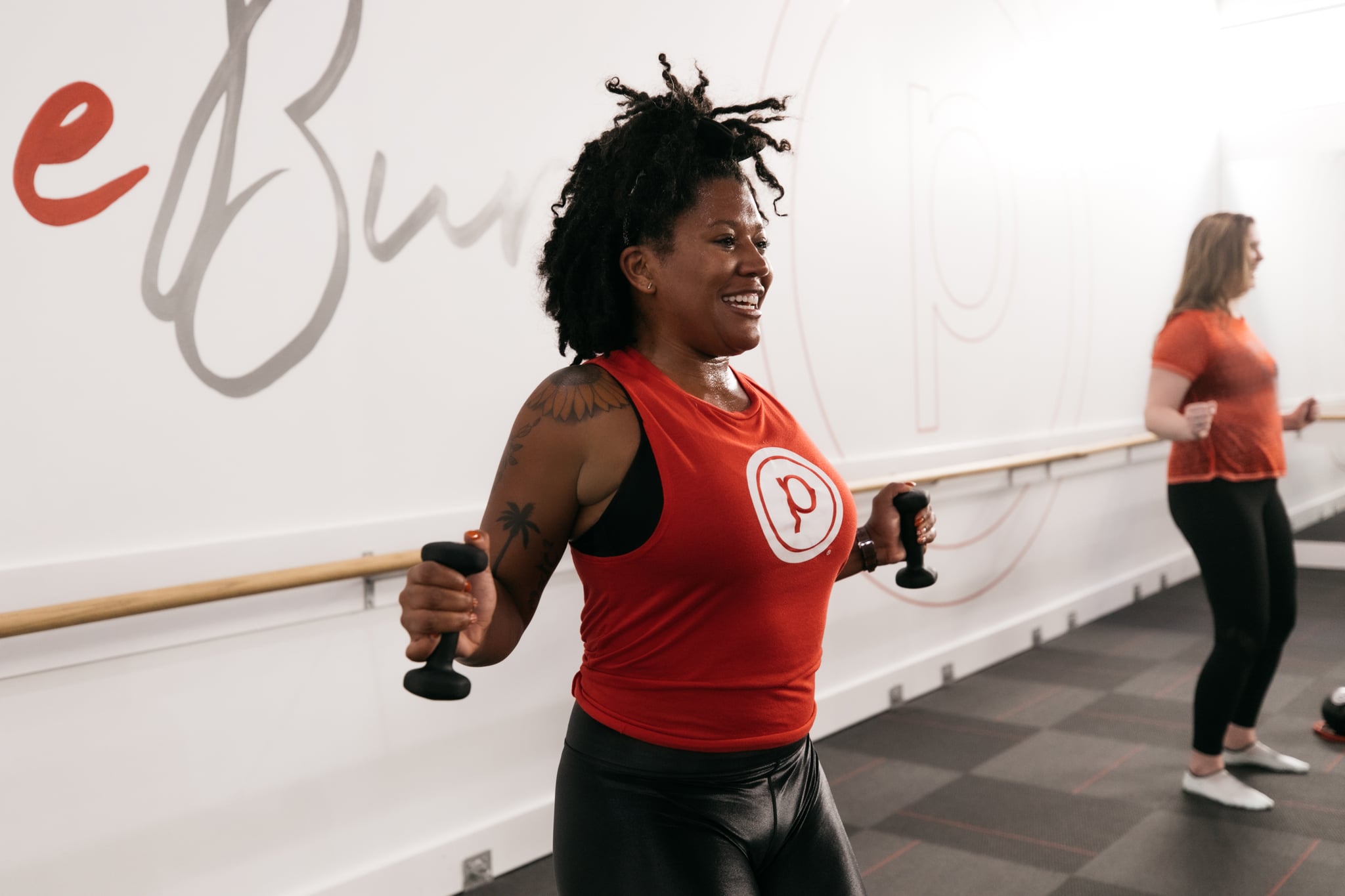 If you've never been to a barre class, it might sound gentle or even a bit froufrou — but those who've been to barre know that this type of workout burns in a one-of-a-kind way. Though it's low-impact and uses micro movements and small weights, barre classes work and exhaust tons of tiny muscles you probably didn't even know you had.
As far as barre studios go, Pure Barre is one of the leaders of the pack. The brand has more than 650 studios across the US and Canada and has been around since 2001. Its class menu now offers four different types to choose from: Classic (Pure Barre's original, low-impact barre class), Align (barre with an emphasis on flexibility and balance), Define (barre fused with weight-based strength training), and Empower (a mix of barre and more cardio-intense interval training).
Considering Pure Barre is a premium fitness studio, should you expect premium prices? If you're thinking about giving it a try, we have info on everything you need to know about Pure Barre's prices, including its membership options and costs, free-trial info, and online access to Pure Barre workouts.
How Much Does Pure Barre Cost?
Pure Barre is a franchise, and prices vary by location, so your best bet is to head to the Find a Studio page on the brand's website and search for one near you. There, you can see if any offers are available — for example, 30 percent off your first month, or a free first class — and find contact info for that individual studio. Unfortunately, most locations don't list their prices directly on the website, so you'll need to call or email and ask.
To help give you a better idea of what Pure Barre's prices are like, we spoke to a rep for the brand. Most Pure Barre studios offer three types of monthly memberships: four classes per month, eight classes per month, and unlimited classes per month. Those monthly membership costs start at $69/month (for four classes per month) and go up to a few hundred dollars per month (for unlimited), depending on the location and market. A Houston studio, for example, lists its 30-day unlimited membership at $170, whereas Reddit users in the r/PureBarre subreddit have shared that an unlimited membership costs $300 in New York City, $189 in the Midwest, and $129 in the Northwest.
Pure Barre also offers single classes and class packages if you prefer something a little more flexible. Prices for these vary by studio as well, but for example, one of the Austin, TX, studios sells single classes for $22, a pack of five classes for $105, 10 classes for $200, and 20 for $340.
It's also worth noting that Pure Barre is on ClassPass — a membership that allows you to visit different gyms and studios using a credits system — so if you're interested in attending classes at multiple studios in your area, that might be a good fit for you.
Can You Try a Pure Barre Class For Free?
You sure can. Most studios offer a free Barre Foundations intro class, which is a small-group class that introduces you to the workout and technique so you can see if it's for you before committing to a pricey membership or class pack.
Can You Take Pure Barre Classes Online?
You can stream Pure Barre classes online through the Xponential+ App ($30 per month or $120 per year, after a seven-day free trial). In addition to Pure Barre, the app also gives you access to workouts from nine other top studios, including Rumble Boxing, CycleBar, Club Pilates, Yoga Six, and Row House. You can sign up online or talk to your local studio to get set up.
Are There Any Other Pure Barre Costs to Know About?
You'll need to wear a pair of sticky or grippy socks for class, both for hygiene and safety reasons. Pure Barre classes are done on carpet, so it helps to have something grippy between your bare feet and the floor. If you don't have grippy socks, you can buy some from your Pure Barre studio, but it's not mandatory, and it's totally OK to bring your own. A pair will typically cost $15-$20, but you can also find cheaper multipacks on Amazon.
Image Source: Pure Barre