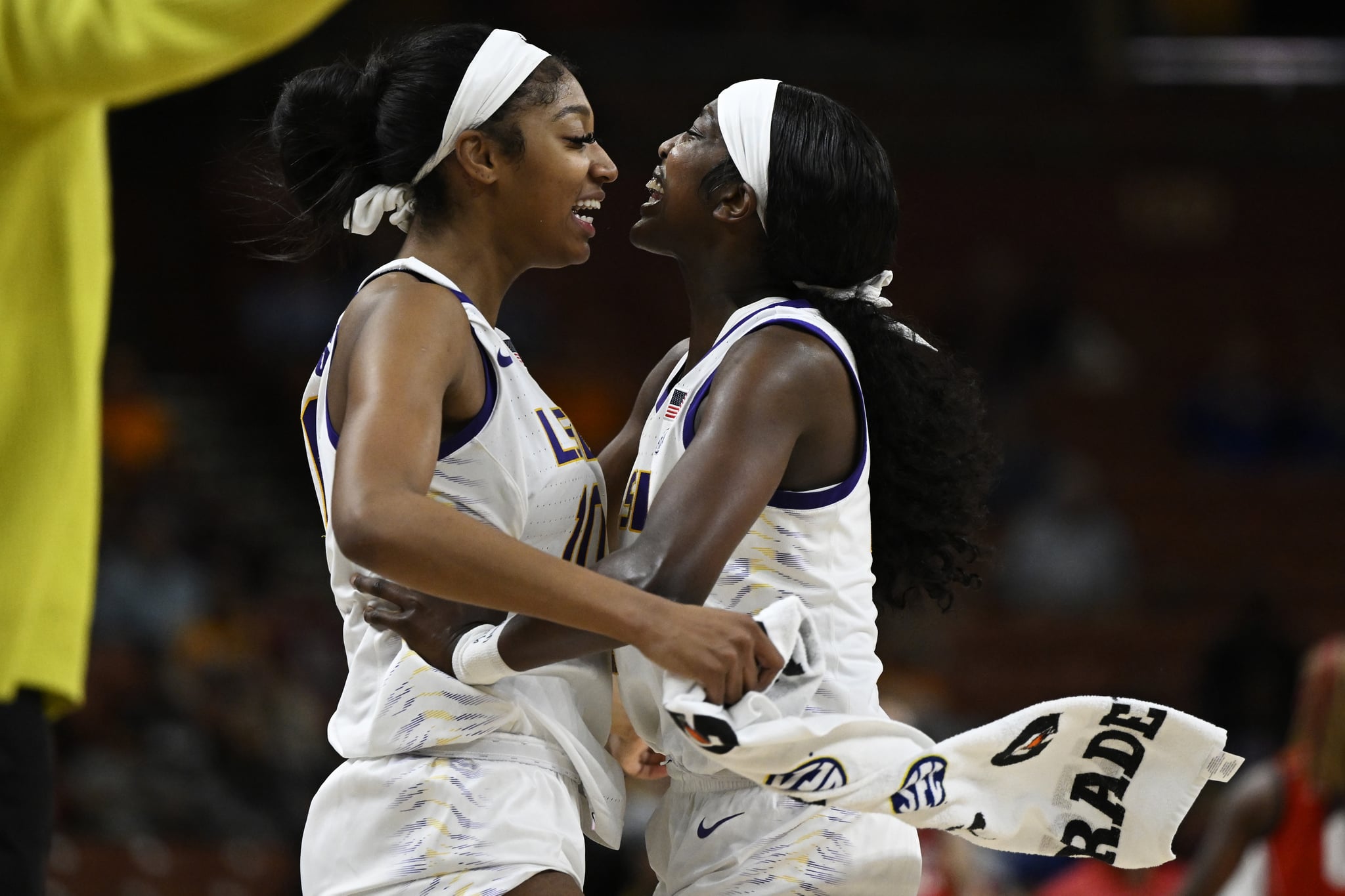 Powerhouse players Angel Reese and Flau'jae Johnson helped Louisiana State University clinch the NCAA women's basketball title during March Madness 2023. But the two are role models both on and off the court, as well-known for their tactical gameplay as for their unapologetic competitiveness. Reese and Johnson aren't afraid to speak their minds and take up space, and now they're bringing that boldness to a conversation that is too often had in whispers.
According to a study conducted by period-care brand Tampax, 68 percent of Gen Z women and girls say they have received little or no period education before their period began, and more than half are uncomfortable discussing their period with close friends. As new ambassadors for the brand, Reese and Johnson hope to help close this gap in period education.
"We never talked about [our periods] in a school setting, or nothing like that," Johnson tells POPSUGAR about her education. "My mom really told me the basics of it." But Johnson never openly discussed it with friends or other authority figures, like teachers or coaches.
Now, Johnson says, "We can shape the conversation."
By having a public dialogue like this one and integrating periods into everyday life and language, Reese says, society can eradicate some of the period shame that so many young women face.
"To be close enough for somebody to even talk about that, it's a good thing."
"I don't care when I'm around my brother or boys . . . If I need to change my tampon, I gotta change my tampon. And that's just a part of my life," Reese says. Talking about her period around her men friends and family has also given her a more empathetic perspective. "I don't think my brother is as icked out about it anymore, and I think that's just because [he has] a sister."
But what's most important, Reese and Johnson emphasize, is talking about periods with each other so that no one has to feel uncomfortable. Periods are never considered an off-the-table topic on the LSU basketball team. Johnson, Reese, and their teammates all take turns playing the role of "checker," or the person responsible for spotting any period stains or runs.
"When on my period during the game, I'm like, 'Ay, be my checker!' Like, that's what we do on the team, like, 'Be my checker' or 'I'm gonna be your checker today,'" Reese says, which came in handy last season when she had a period leak during a game. Her teammates spotted the stain quickly and lent her another pair of shorts to wear.
Johnson and Reese feel lucky to have that support system in place. "Just to be comfortable on the court, you know what I'm saying — you always got somebody right there that's gonna make sure you're protected, and that you're fine, because it's so many people looking at us," Johnson says. "To be close enough for somebody to even talk about that, it's a good thing."
Through this partnership, Reese and Johnson are hoping to encourage girls to find and be that same support system for one another. "I feel like our voice holds power, that we can make [periods] seem however we want to — and we want to just show them that it's OK. It's the norm."