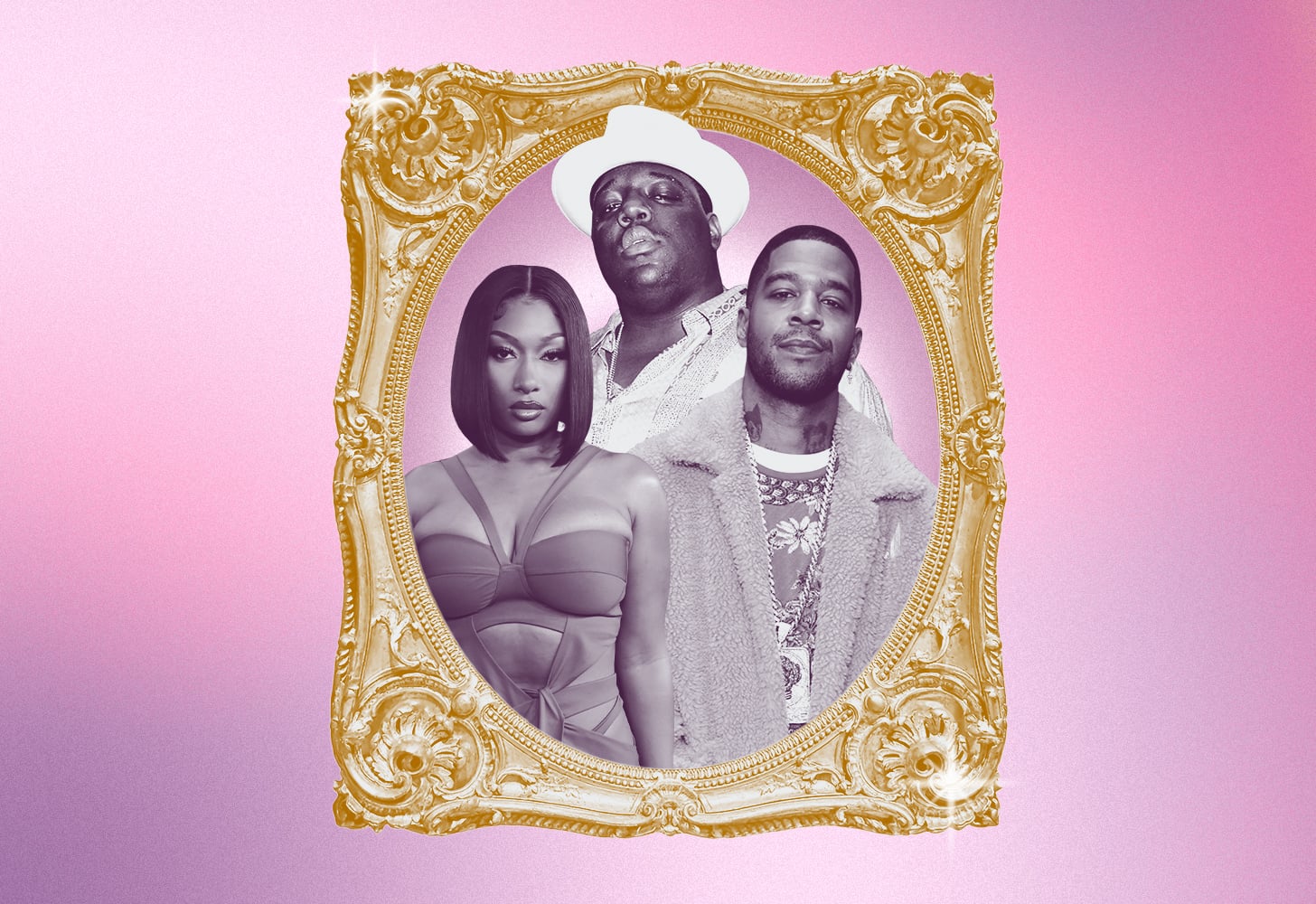 Content warning: This article contains descriptions of mental health issues and suicide.
"Black kids have to figure it out. We don't have rehabs to go to. You gotta rehab yourself," Master P said on Solange's "A Seat at the Table." That statement remains true for many Black individuals dealing with mental health issues, due to psychosocial and socioeconomic barriers (like health insurance and stigma around mental health). But one resource has long been available to the community: hip-hop.
Since its inception 50 years ago, hip-hop has given Black youth in neighborhoods across America a language to emote, express, and disclose how they truly feel. And despite its often warped reputation throughout history, the genre has done more good than anything as a means of expression and a way to process.
While nothing should serve as a substitute for professional mental health help when needed, hip-hop has continued to step in time and time again when we've had nothing but our pain and frustration to offer up.
To mark the 50th anniversary of the genre alongside its contributions to expanding the hip-hop community's ability to express themselves, we're reaching back to see where it all began — and where mental health in hip-hop is going.
The Roots of Mental Health in Hip-Hop
When the genre first emerged onto the scene in the 1970s, the MCs and DJs were vehicles for Black America's outward expression of everything piled against them. From the mouths of artists like Grandmaster Flash and the Furious Five and Brother D with Collective Effort flew acknowledgments and indictments of racism, sexism, and capitalism, and sentiments of Black Nationalism. In the South Bronx — widely considered the birthplace of hip-hop — and eventually across the nation, Black youth convened in public parks, basements, and Boys & Girls Clubs in a mission to find themselves.
As hip-hop progressed into the 1990s and early 2000s, consciousness evolved. The rise of gangsta rap — which explicitly stated and vocalized Black youths' frustrations with over-policing, police brutality, and mass incarceration — became the prominent voice. Although hidden in the lyrics of groups like N.W.A., conversations around mental health were undertones in the hip-hop scene.
For example, in the South, Black youth in Memphis disguised their mental health struggles under horrorcore, a subgenre birthed in the region where Bible thumpers equated mental health with the devil and demonic entities. In the mid to late 1990s, musicians like Low Down da Sinista, Playa Posse, Lil Fly, Ten Wanted Men, and more utilized horror film tropes as allegories to explain their own mental health struggles. In a region where the cultural and societal belief is that mental health can be prayed away, these young Black men and boys believed not. Their solace was the ability to escape into the mind of a horror film character or demonic impression to escape from their lives.
In Houston in 1991, The Geto Boys released "My Mind Playing Tricks On Me,"' one of the first songs to explicitly state and narrate one's personal battle with mental health. Bushwick Bill and Scarface, two prominent members of The Geto Boys, struggled with mental health issues for years. From paranoia to suicidal ideation, their raps were as clear and concise as a mental health assessment.
One only needs to listen to Scarface's opening verse on "My Mind Playing Tricks On Me": "At night I can't sleep, I toss and turn / Candlesticks in the dark, vision of bodies bein' burned / Four walls starin' at a n***a, I'm paranoid, sleepin' with my finger on the trigger," he raps, which may harken back to his experience being sent to Houston International Hospital at 12 years old after an attempted suicide.
The success of horrorcore was not limited to the South. In Southern California, acts like R.A. the Rugged Man were scouted by record labels such as Def Jam and Jive Records, eager to capitalize on the next trend after gangsta rap. In the 1990s, horrorcore was at peak popularity, but it started to decline as prominent rappers found ways to depict mental health without being defined by the sub-genre.
Then came the Notorious B.I.G., the face and voice of New York, who languished his mental health dilemmas in extreme detail. On "Suicidal Thoughts," the rapper described a suicide attempt. The first verse opens with a moment of introspection: "When I die, f*ck it, I wanna go to hell / 'Cause I'm a piece of sh*t, it ain't hard to f*ckin tell." As the song continues, he begins to list off his sins: lying to and stealing from his mother, feelings of inadequacy in relation to parenthood, and his own loss of self-respect.
DMX, one of hip hop's greatest stars, dealt with mental health issues for the entirety of his career and life, too. In his 2001 album "The Great Depression," he gave the public a peek into what was going on internally. On "Damien III," listeners were privy to a conversation with Damien, DMX's inner devil. The track feels like a conversation, but one that's a shouting match between the two entities. "Cause I knew if I f*cked with you too deep you'd bite me / Get mad at me, send n***as wantin' to fight me / Whole time you f*cked with me you didn't like me."
These pleas did not go unnoticed. In the early 2000s, as hip-hop began its meteoric rise in pop culture, critics demonized rappers for their glorification of violence, when in fact, they were crying out for help. In "When Chickenheads Come to Roost: A Hip-Hop Feminist Breaks It Down," Joan Morgan put it like this, "When brothers can talk about killing each other and then reveal they have no expectations to see their twenty-first birthday; that's straight up depression masquerading as machismo."
A Turning Point For Hip-Hop's Approach to Mental Health
As the genre evolved throughout the 2000s, so did its relationship with mental health. In the mid to late 2000's and 2010s, rappers such as Drake, J. Cole, Kendrick Lamar, and Kid Cudi more openly disclosed their struggles with fans. Alcoholism, substance abuse, and survivor's remorse were mainstays in their music and reflective of the times.
As the nation struggled to bounce back from the Great Recession, youth across the country struggled, too. Instead of the haunting, paranoia, and frantic depictions of mental health of the late 1990s and early 2000s, the hip-hop of this period used more overt messaging over softer, melodic tunes.
When Ye, the artist formerly known as Kanye West, released "808s & Heartbreak," his fourth studio album, hip-hop changed. Inspired by the auto-tune vocal stylings of T-Pain and utilization of the technology by Lil Wayne and Jeezy, Ye, alongside his team of collaborators (which included a novice Kid Cudi), shifted the tone and messaging of hip-hop. Elements of electropop, synth, and bass became the foundation for Ye to languish about the passing of his mother, Donda, his breakup with Alexis Phifer, and the emptiness that comes with celebrity.
Kid Cudi took things a step further, offering up his notorious hums as a calling card to anyone who was willing to listen to him process his own emotions and experiences. First heard on "The Prayer," a precursor to his breakout song "Day 'n' Nite," on his debut mixtape "A Kid Named Cudi," his melodic sound often served as an introduction to a tragic or somber tune about his personal struggles with purpose. The song's first lines — "My heart thump, not from being nervous / Sometimes I'm thinking God made me special here on purpose / So all the while, 'til I'm gone make my words important" — resonated with Cudi's peers at the time. These listeners were a lost generation of recent graduates, cheated by the greediness of the previous generation and left to deal with the impacts of the Great Recession.
In contrast to his peers, Cudi always shared the intricacies of his mental health journey. Mental health in hip-hop was no longer the boogeyman, but a common stay among discographies. And it wasn't just a thing for men rappers; women hip-hop artists began speaking about mental health, too. This was a huge turning point, especially those trying to exist and survive in an industry where misogyny is commonplace.
Now, It's Women Rappers Who Are Starting the Conversations
In order to be taken seriously in the industry, early women rappers (think: Missy Elliot, Lil' Kim, Da Brat) were discouraged to emote.
Some artists, like Eve and Lauryn Hill, found their own way in. Eve, the first lady of the Ruff Ryders, spoke about the experience of intimate partner violence on "Love Is Blind," while Hill expressed her experience of suicidal ideation in "Manifest," the outro track on "The Score," the Fugees' final studio album. Today, as women in hip-hop are becoming more visible than ever, so are our issues. And we're not just talking about our pain, we're offering up solutions and resources, too.
On "Anxiety," Meg Thee Stallion details her experience with the condition, her refusal to internalize society's perceptions of her, and her connection to Marilyn Monroe, Britney Spears, and Whitney Houston, three women whose personal lives and mental health were impacted by mistreatment in the media and their peers in the music industry. But she didn't just limit this conversation to her music; she created an online resource with links to mental health resources, podcasts, and directories to mental health providers.
City Girls's JT launched a similar resource for the recently incarcerated after spending two years in prison and opening up about the experience. NoBarsReform.com is a website where folks can be connected to therapists, social service providers, and workplace assistance.
The women rappers of today know mental health is not a singular issue that hip-hop alone can tackle — it requires a multifaceted approach, and often help from professionals.
In the 50 years since they first emerged, hip-hop artists have found a way to speak openly about their mental health, and are at work to ensure the next generation does not inherit old stigmas. Through being unafraid in claiming, naming, and sharing their own stories of mental health and their journeys towards stability, hip-hop continues to lead the way, now more boldly than ever before, through the destigmatization of mental health in pop culture and in Black communities across the world.
Image Sources: Getty / Jeff Kravitz Rodin Eckenroth Robin L Marshall and Photo Illustration by Aly Lim