On the eve of Valentine's Day, LaQuan Smith hosted his 26th fashion show at the Rainbow Room in New York City. Often reserved for the most prestigious of designers, the show began with an elegant cocktail hour, 65 floors above New York City, with caviar, smooth chocolate espresso martinis, and a Crown Royal twist on a French 75, dubbed the "LaQuan Dynasty," amongst other specialty cocktails and delights. The unapologetically glamorous and racy New York City brand felt different this season. Amongst its sexiness, there was an air of maturity—a feeling of…arrival.
Guests poured into the circular space, a mashup of Gen Z, Millenials, and yes, Gen X—all here to support the self-trained Queens-born designers, whose buzzy designs have been worn by powerful, sexy women ranging from Beyoncé to Julia Fox to Teyana Taylor (two out of three were in the room). "I'm just so proud of LaQuan and how he has grown," Teyana Taylor was overheard saying shortly before the show started. Everyone from CFDA President CaSandra Diggs to NYFW Founder Fern Mallis to model/fashion diversity activist Bethann Hardison and a slew of It Girl models including Coco Rocha, Duckie Thot, were in attendance, not to walk, but rather as guests, to see what the designer has learned and how the wisdom of his journey is reflected in his designs. Smith also ensured the new gworls were in the room: "This is my first LaQuan Smith fashion show," rapper Lola Brooke shyly revealed. Shortly after, Maiya the Don, known for her viral single, "Telfy," sat next to Brooke as the two spoke about their love for fashion and how excited they were to be in the room.
Models marched down the runway, some with briefcases, wearing new takes on your favorite professional silhouettes—an updated power suit with uber-low-rise pants and high cut, cutout bodysuits replacing the traditional button-down shirt; a backward blazer reimagined as a dress, with the lapels serving as a sexy way to show off the back. Hair was slicked back in wet, yet rigid, ponytails, perfect for showcasing a strong, smokey eye. The makeup was unapologetically glam. He also presented menswear for the first time, showing that no matter the gender, LaQuan Smith is here to dress you. With models wearing alienesque, oversized sunglasses, it was almost a message from the future for the IT Girls: Growing older is a privilege—and it's sexy.
So, it was no surprise that he sought out fellow Millennial industry vet Huda Kattan to collaborate on the makeup look, as she prepares to celebrate 10 years of Huda Beauty. The two are not new to each other. Kattan is a huge fan of the LaQuan Smith brand, wearing his looks on several occasions. "He just knows how to make a woman feel beautiful, how to feel sexy, how to feel powerful, and I feel like that's what we (Huda Beauty) try to do too," Kattan shares exclusively with ELLE.com.
"LaQuan came to our first meeting with these fabulous ideas of bold graphic liner that I absolutely loved," Kattan reveals. There was instantly synergy between the two and the smoky smudgy eye was a perfect way for Kattan to introduce her new creamy kohl liners. "[The liners] remind me of the vibe I got from his previous fashion shows—the ultra-glam, bold look—and I knew this would work really well for him," she reveals. "The process was really smooth because of the fact that we were really in line with the direction we were going to take, and I'm really excited to see everything come together," Kattan stated just days before the show.
LaQuan Smith's Fall/Winter 2023 beauty look was inspired by the '80s television show Dynasty, so the duo took the reference and ran with it. "Both LaQuan and I were obsessed with the Dynasty makeup looks and how bold they were, so I definitely wanted to pull inspiration from there," states Kattan. Her moodboard included old pictures of Linda Evans and Joan Collins and focused on their strong eye looks and pops of color. Kattan took the '80s glam inspiration and added a modern twist, leading to graphic lines and glam, glam, glam on the runway.
Backstage, lead makeup artist Raisa Flowers shared, "The super defined graphic look is feminine, but strong at the same time, to embrace that elevated glamour and Huda Beauty beat." The graphic line and floating eye were an ode to the signature sexy cutouts that LaQuan has become so well known for. "There are lines with a lot of the clothing he creates, and you can easily see that with liner," Kattan explains. The creamy kohl liners, which are transfer-, water-, and smudge-proof, will be available to shop on February 27. For the bold eye, you can shop the look now. Flowers also used the Naughty Nude Eyeshadow Palette, the Empowered Eyeshadow Palette, Life Liner Quick 'n Easy Precision Liquid Eye Liner, and the Legit Lashes Double-Ended Volumizing & Lengthening Mascara to get the look.
The beauty behind LaQuan Smith's Fall/Winter 2023 show illustrates that women are here, women are powerful, and when you grow up, you are in charge. Remember: Joan Collins joined Dynasty after its first season at the age of 48. She turned a struggling show into a worldwide phenomenon. At 50, she posed nude for Playboy. Society consistently puts fear in the heart of women when it comes to aging. As Collins was an inspiration for both Kattan and Smith, ladies, let her be an inspiration to you. And like Julia Fox said in her viral TikTok, "Getting old is f—king hot." So bring out the bold eye, the full-on glam, and live, girl.
"I've seen some influencers talk about the 'shame' of being glamorous and I think it's something you shouldn't be ashamed of. You should feel like you can get dressed up every single day and be that person that you want to be…no matter who that is," Kattan declares. Ten years later, Huda is still here, in charge, and creating beauty products to facilitate the possibilities of being unapologetically you.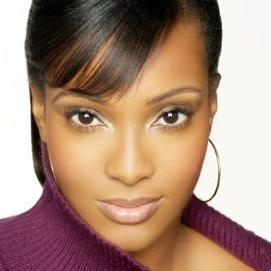 Beauty Director
Danielle James is the Digital Beauty Director of ELLE.com. Previously, she was the Fashion and Beauty Director of HelloBeautiful.com and MadameNoire.com. She's bylined for The Cut, InStyle, Allure, Business of Fashion, Nylon, Essence, Good Housekeeping, The Grio, and Huffington Post. Danielle enjoys sailing, thrifting, Japanese whiskey, Naomi Campbell's runway walk, and Rihanna in the comment section.