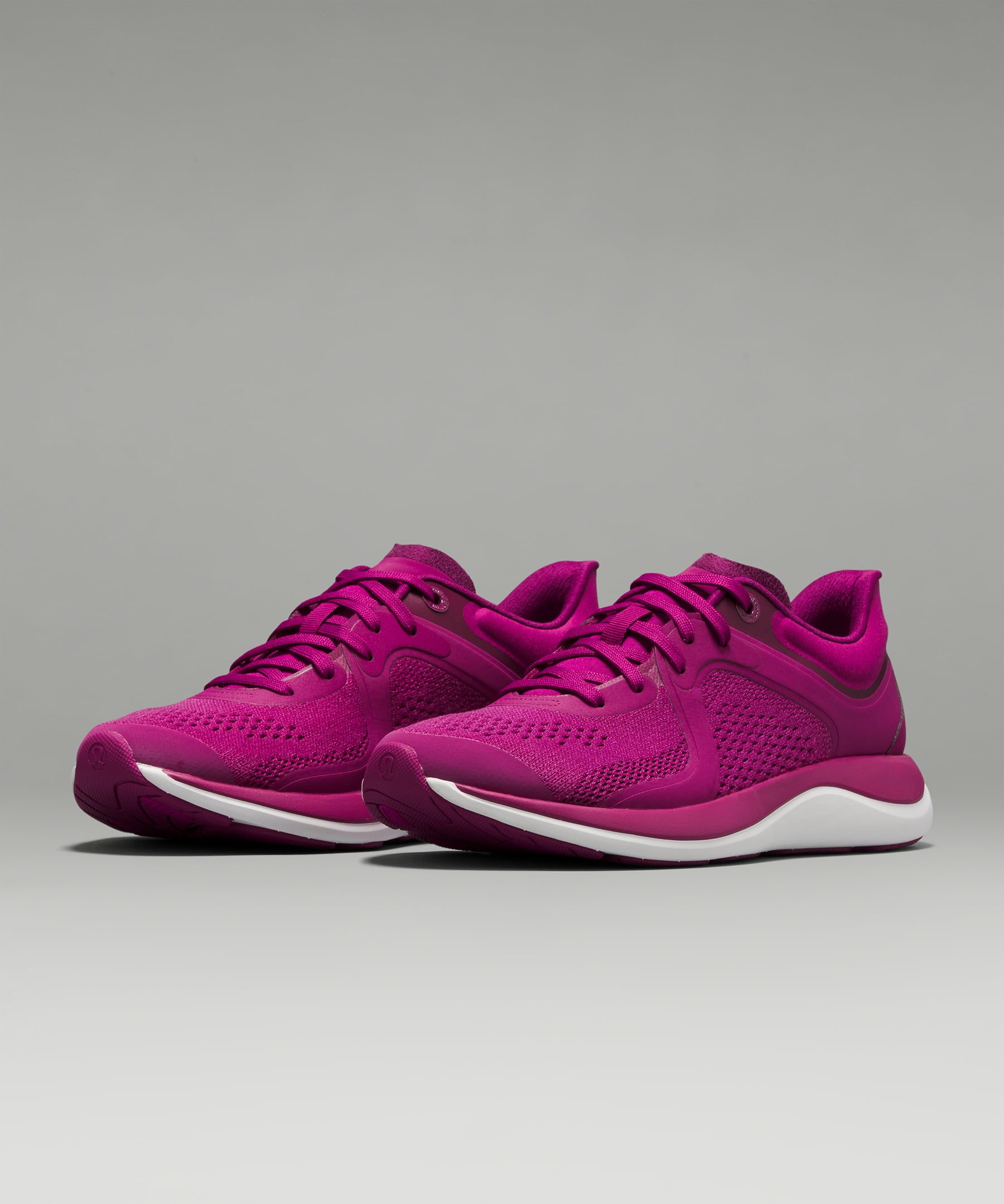 With the exception of running shoes, I definitely don't put as much thought as I should into my workout footwear. I know the basics — you typically want more support and bounce for running shoes and a flatter sole for weightlifting (all depending on your foot type and needs, of course) — but when it comes to high-intensity interval training, aka HIIT, I've never really known which shoes are best.
HIIT has way more jumping and explosive movements than your typical strength workout, and it also contains more multidirectional movements than running. I usually take the very scientific approach of just aiming for something in the middle, hoping that it doesn't saddle me with an injury or soreness in my knees or sensitive, injury-prone feet. (It's really not the smartest approach, and I wouldn't recommend it.) All this to say, I was excited for Lululemon to release Chargefeel ($138), a shoe specifically designed for cross-training that can also be used for running, the brand says.
I had already tried Lululemon's debut running shoe, Blissfeel, and was pleasantly surprised at how it performed (very picky running-shoe snob here). I had high hopes for Chargefeel, which Lululemon describes as an "everyday neutral running and training shoe." According to the company's press email, this shoe features "the bounce and forward motion required in a running shoe," as well as the "stabilizing side-to-side support" of a cross-training shoe. To me, that sounded perfect for HIIT: versatile and suitable for explosive movements while providing the support needed for running.
Like Blissfeel, Chargefeel is designed based on a "female-specific shape," supposedly making it more customized for women's feet. (Many workout and running shoes are designed for men's feet, which are typically wider with less of a change in width from heel to toe, then adapted for a women's version.) Chargefeel also comes in two different styles based on the type of upper (the part of the shoe that covers your foot). The Chargefeel Mid ($148) has a sock-like mesh addition that comes up over your ankle, while the Low version ($138) tops out below the ankle. "The low feels more locked and stable while the mid offers a bit more freedom to move with you," Lululemon says. Chargefeel is also available in 14 (!) different colors.
Lululemon sent me a pair of Chargefeel Low shoes to try out, and I took the opportunity to test out the shoe's versatility. After three weeks of HIIT, weightlifting, walking, and running workouts, here's what I thought of Lululemon's Chargefeel training shoes.
My Lululemon Chargefeel Review
My first impression of Lululemon's Chargefeel shoes was, "Oh, that's comfy." I got a size 9.5, which is right in the middle of my usual range for running and training shoes (size nine to 10) and fit fairly true to size. I'd recommend sizing up if you're between sizes due to the relatively narrow shape of the shoe. The first time I laced up the Chargefeel, I could feel the telltale support and stability of a running shoe, minus the rigidity and ultrabounciness you can get with some pairs.
I debuted the Chargefeel shoes in a HIIT cardio workout, which I'd previously been doing in running shoes (not something I'd recommend doing regularly — you'll wear out the running shoes faster, and they don't give you the kind of lateral stability of a cross-training shoe). I felt a difference right away. My HIIT workouts include a lot of different movements, including vertical jumps, high knees, skater hops, squats, and plank jacks, and I felt supported and stable through all of them. The shoes were bouncy enough for the jumping moves but also gave me enough stability for things like squats and lunges. The only time I felt a bit of discomfort was during running-inspired moves like high knees, but my feet tend to be very sensitive to running movements (more on that below), and it wasn't anything that caused pain or made me pause the workout.
Next up: weightlifting. Honestly, no major notes here. I'm not super picky about my weightlifting shoes, as long as they're relatively flat and not too cushiony. The Chargefeel's lower (aka the sole of the shoe) was flat enough that I felt it was worth trying for this modality, and I knew from some of the squats and lunges in my HIIT workouts that the shoes felt comfortable during strength-based movements. The Chargefeel shoes were comfortable through all the strength workouts I did (including upper-body, lower-body, and full-body workouts). I was especially impressed with the support I felt during moves like single-leg deadlifts and Bulgarian split squats, where there's a ton of pressure on one foot. The Chargefeel shoes gave me good grip and stability even while pushing off of one foot with 15-pound dumbbells in each hand. (FWIW, I've already got my eyes on Strongfeel, the strength-training shoes Lululemon plans to release in the fall.)
How would the Chargefeel shoes respond to running, though? This was the test I was most interested in, given how picky my feet are when it comes to running shoes. As a litmus test, I first took Chargefeel on a couple of three-mile walks. I like to do this with shoes I'm not 100 percent confident in, like when I'm trying out a new brand or style I'm not used to. I don't want to set off for a five-mile run, realize my shoes are killing me, and have to grit my teeth through the pain for the rest of the route.
When I didn't feel any discomfort or red flags after a few walks, I laced up for my first Chargefeel run. Despite having a positive experience with Blissfeel, I wasn't extremely confident in how a cross-training shoe would hold up to road running, especially given the twinges of discomfort I'd felt doing high knees in my HIIT workout. I did feel the lack of running-specific support in my arches, which are fairly high and need a lot of TLC, but that soreness faded pretty quickly as my feet adjusted to the shoes. After that, I was surprised at how comfortable I felt running in the Chargefeel shoes. My 3.5-mile run included some steep hills (thanks, San Francisco), but I didn't feel any soreness in my heels or Achilles tendons, which is common when I do runs with elevation gain. I also didn't experience the tightness or numbness I often get with new shoes, especially narrow ones.
Are Lululemon Chargefeel Sneakers Worth It?
I've only done one run in Chargefeel so far, but I was really impressed with how it held up for a cross-training shoe. It wouldn't be my first choice for a long run or race (half marathon, 10K, etc.), because I think running-specific shoes do provide more support and comfort overall. But the Chargefeel shoes feel like a solid choice when it comes to short runs or HIIT workouts that include sprinting or running sets.
Because they're so versatile, Chargefeel shoes would also make a great choice for when you travel — you can rely on them for HIIT, walking, or strength sessions, or slip them on for a quick run down the beach, so you don't have to pack an extra pair of running-only shoes. They've already carved out a space in my luggage for my next trip.
Overall, I'm a fan. I expected good things from Chargefeel during my HIIT workouts, but the comfort I felt while running in it was unexpected for someone so selective about running shoes. Yes, I think I'll stick to my specialty running shoes for my more regular jogs and races, but the versatility of Chargefeel is seriously impressive. If you are looking to save space in a carry-on, only want to splurge on one pair of training shoes, or just want a supportive cross-training and HIIT shoe you can count on, Chargefeel is a solid choice.