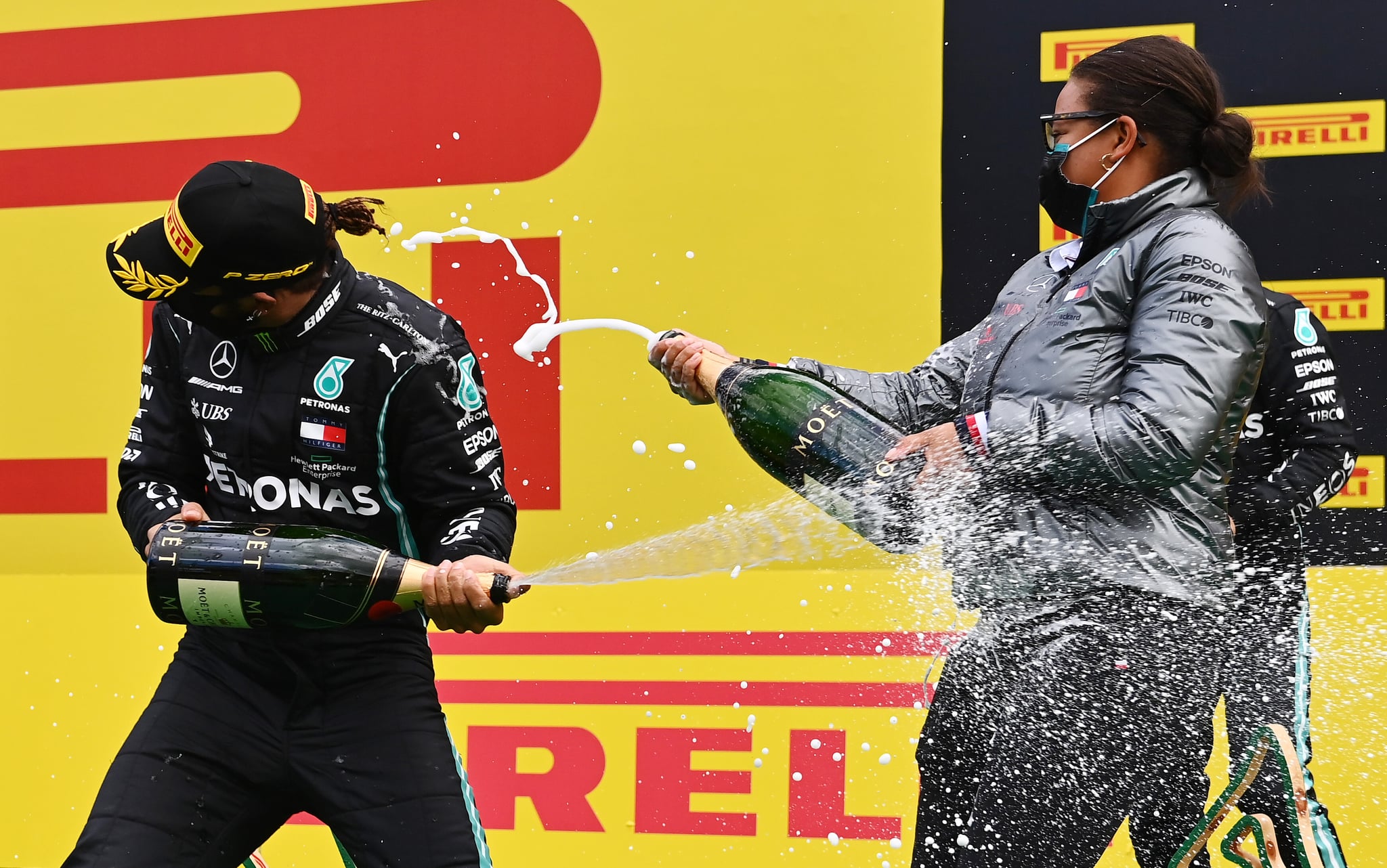 History was made on July 12 when Stephanie Travers, a Petronas trackside fluid engineer, became the first Black woman to stand on a Formula 1 podium. Driver Lewis Hamilton brought her up to the podium following his win at the Styrian Grand Prix in Austria and later highlighted her achievement in a powerful Instagram post that makes plain what the moment really means.
"I wanted to post this because it's such an important moment," wrote Hamilton, a six-time Formula 1 champion who's been an advocate for Black Lives Matter. "On Sunday, [Stephanie] became the first black woman to stand on the podium in Formula 1 history. This is an amazing achievement and I just wanted to acknowledge her for her hard work, positivity, and passion for her job."
Travers, who was born in Zimbabwe, has been a Petronas trackside fluid engineer for the Mercedes AMG Petronas F1 team since 2019, according to a Women on Wheels interview in January. She beat out 7,000 other applicants for the job, working through an intense, multi-stage "global talent search" run by Petronas, Travers explained to Autosport in June. "Growing up, I used to watch races with my dad and travel to some races with friends," she said. "It's something that I've always aspired to one day work within. I tailored my education with the goal of becoming a trackside fluid engineer."
On the track, "I provide the technical support and analysis for the Mercedes Formula 1 team," Travers explained. She ensures that the oil and fluid is compliant with regulations and monitors "the health of the car as a whole throughout a race weekend." She came to the demanding, technical job from a background in chemical engineering, and according to a Sky Sports broadcast at the Styrian Grand Prix, Travers is the only Black woman currently holding a technical role on a Formula 1 team.
"Steph said she wants to inspire young black children, and children of colour to believe that they can do it too, and I couldn't agree more," Hamilton wrote in his post. "Put your mind to it, and you can be anything you want to be."