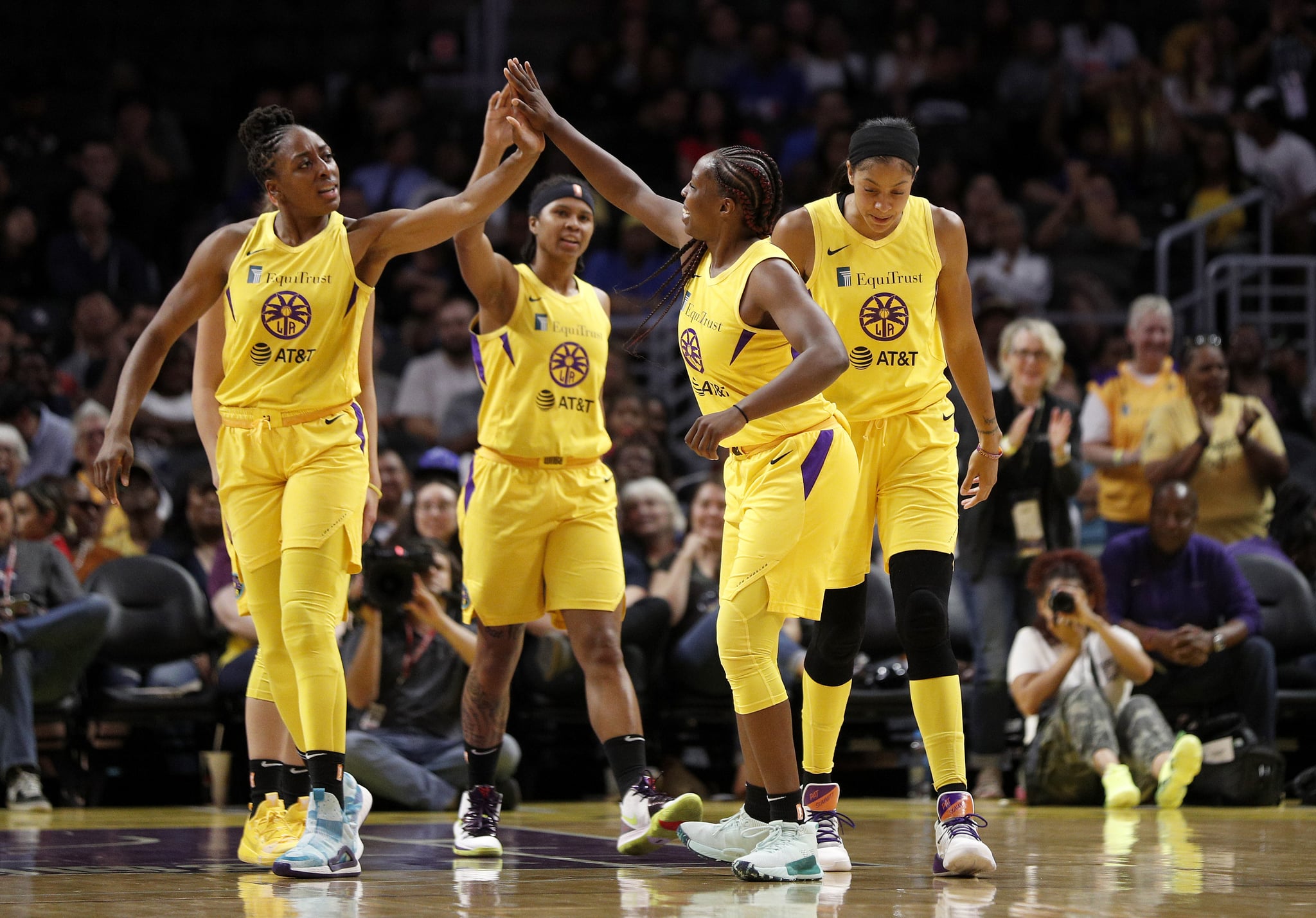 Athletes have a long history of advocating for racial justice, but leagues have only recently started to support the cause in a visible way. See: the NFL and US Soccer walking back stances against kneeling during the national anthem, the NBA planning to paint "Black Lives Matter" on courts, NWSL teams wearing "Black Lives Matter" shirts before kickoff. These major moves were prompted by nationwide protests over the deaths of George Floyd, Ahmaud Arbery, Breonna Taylor, and other Black victims of police brutality and racist violence. Now the WNBA is looking to establish itself as a leader for activism in the sports world, announcing today that it would dedicate its 2020 season to social justice.
What will that look like? When the WNBA returns in late July, playing at a single site in Florida, the first weekend of competition will be "centered around the Black Lives Matter movement," the league said in a statement. Teams will wear "special uniforms to seek justice for the women and girls, including Sandra Bland, Breonna Taylor, Vanessa Guillen and many more who have been the forgotten victims of police brutality and racial violence." Players will also wear Nike warm-up shirts with "Black Lives Matter" on the front and "Say Her Name" on the back. "'Black Lives Matter' will also be prominently displayed on courts during games," the league said.
In addition, the WNBA and the WNBA Players' Association are launching a new platform, "The Justice Movement," and the WNBA/WNBPA Social Justice Council. The council is meant to create spaces for "community conversations, virtual roundtables, player-produced podcasts, and other activations to address this country's long history of inequality, implicit bias and systemic racism that has targeted black and brown communities," the league said.
In doing so, they look to bring together educators, activists, and community leaders together with WNBA community of players and fans, "with an intentional plan to educate, amplify and mobilize for action." The council will be player-led, featuring stars like Layshia Clarendon, Breanna Stewart, and A'ja Wilson, and advised by Alicia Garza, co-founder of Black Lives Matter, and Carolyn DeWitt, CEO of Rock the Vote, among others.
"As many WNBA players – past and present – have said and, more importantly, consistently demonstrated, the reason why you see us engaging and leading the charge when it comes to social advocacy is because it is in our DNA," said Nneka Ogwumike, president of the WNBPA and forward for the Los Angeles Sparks, in the statement. "With 140-plus voices all together for the first time ever, we can be a powerful force connecting to our sisters across the country and in other parts of the world. And may we all recognize that the league's stated commitment to us – in this season and beyond – offers a pivotal moment in sports history."
Some WNBA players have already decided to skip the 2020 season to push for racial justice. Maya Moore, one of the most accomplished players in history, will be missing her second season to further the fight for criminal justice reform. (She focused her efforts on overturning the conviction of Jonathan Irons, who was officially released on July 1.)
"We are incredibly proud of WNBA players who continue to lead with their inspiring voices and effective actions in the league's dedicated fight against systemic racism and violence," said WNBA Commissioner Cathy Engelbert, emphasizing that the league hopes to carry the torch for social justice beyond the 2020 season. "Systemic change can't happen overnight, but it is our shared responsibility to do everything we can to raise awareness and promote the justice we hope to see in society."