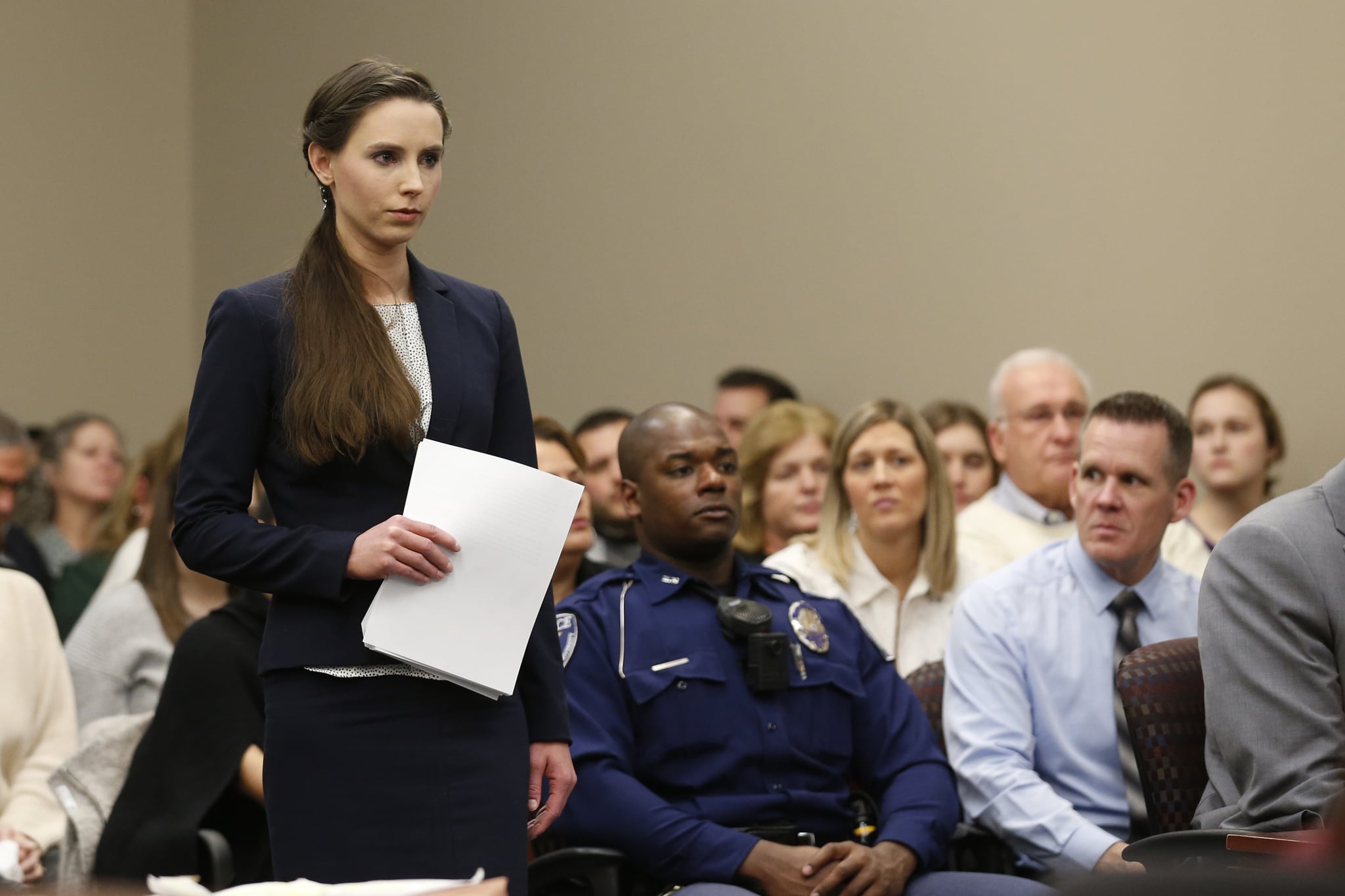 Rachael Denhollander speaks during Larry Nassar's sentencing phase in Ingham County Circuit Court on Jan. 24, 2018.
Rachael Denhollander opened her laptop on Aug. 4, 2016, and saw an article trending on Facebook that changed everything. It was Indianapolis Star's initial investigation into USA Gymnastics's (USAG) failure to properly report claims of sexual assault made against coaches. As she recalls in the new Netflix documentary Athlete A, she read the story right away and knew the timing was right; maybe if she came forward about the abuse she experienced at the hands of former USAG and Michigan State University doctor Larry Nassar as a 15-year-old gymnast, she'd be taken seriously this time. Maybe she would be heard.
It was 2004 when Denhollander approached a coach with claims of Nassar's abuse under the guise of pelvic floor treatment, but she was shut down and cautioned about speaking out. Then, 16 years after she first saw Nassar, she came across the story in the Indianapolis Star and emailed reporters there. She was one of the three survivors who initially helped the outlet build a strong enough case against Nassar to turn into its own story. After it was published, a wave of athletes came forward with more allegations, which led to the arrest and conviction of Nassar. The number of survivors who gave impact statements at his sentencing hearing was 156; to this day, more than 500 total have spoken up.
In the fall of 2016, after first interviewing with the Indianapolis Star, Denhollander reported Nassar's abuse to the MSU Police Department and filed a Title IX report with the school. Denhollander did gymnastics for about four years at the club level and told POPSUGAR she sought treatment from Nassar starting in 2000 until the end of 2001.
Denhollander had done a lot of healing long before she came forward publicly with her experience of abuse. But speaking out time and time again against Nassar to reporters, and later in court, felt like she was taking 10 steps backward.
It wasn't until a preliminary hearing in 2017 that Denhollander saw Nassar again — which she said was beyond difficult. The courtroom was packed, and her identity and details about her abuse were exposed. Having to recount the abuse with Nassar in the room, she remembers, was revictimizing. "I put that at the feet of USAG and the FBI and MSU, because their continual covering [up] of abuse put me in a position where it couldn't be done quietly and I didn't have the choice anymore," she said, adding that in some ways, it felt "almost worse than the initial abuse because there was such a large audience to it and there's no privacy, no control. My entire identity was by definition wrapped up in what had happened to me, not in anything I had done."
"Nassar is not the problem. He's a symptom of the problem."
Denhollander told POPSUGAR she knew Nassar crossed the line at the time of the abuse, but it took years of research before realizing that none of the "pelvic floor treatment" he claimed to be providing for her lower-back pain was legitimate. Nassar initially claimed that he never provided internal procedures and that survivors were confused and didn't know the difference between "inside and outside" their bodies, Denhollander explained. "The viewpoint you have to have of women and their understanding of their own bodies to pass off all those reports as 'all these women are confused' says a lot about our culture in and of itself," she stated.
It was about a year after her appointments with Nassar ended that Denhollander's mom asked about treatment because, Denhollander said, she'd noticed signs of trauma. Her father knew, as well as her siblings and a few very close friends, but that was it. And she noted that a support system like she had isn't always available to survivors.
For those who have experienced sexual abuse, Denhollander recommends finding a good trauma therapist. If therapy isn't an option for you, she suggests being creative in the ways that you express how you're feeling. For her, it was journaling, but she knows some survivors who turn to art or music. The other important tool is to give yourself time and space to grieve. "Recognizing that the wound is legitimate and that it should be grieved," she specified. "I think one way to help recognize legitimacy of it is to think about how you would treat a catastrophic physical wound. . . trauma injuries are every bit as real as a physical injury you can see."
Self-care is important as well, especially when watching something that might be triggering, which Denhollander noted could be the case with Athlete A. That being said, she clarified that the overall goal of the documentary isn't sensationalism — there isn't a lot of graphic detail — but rather education. It's about "the hope that comes after abuse," she said.
"If I can see the darkness, it's because there is light."
Denhollander is proud of how well the film highlights the detective work of Andrea Munford, a detective lieutenant at the MSU Police Department, and the prosecutorial work that Angela Povilaitis from the Michigan attorney general office did. "One thing that a lot of people don't realize is the uphill battle that survivors face when it comes to being able to stop an abuser, and the detective and the prosecutor are probably the two most important factors," she said. Journalists, like those from the Indianapolis Star, telling the truth and prioritizing these types of stories, she noted, is also how change gets made.
The United States Olympic & Paralympic Committee (USOPC), USAG, and MSU did not, according to Denhollander, take the most basic steps that even her children take when they hurt someone. They've issued general apologies about the abuse, she said, but none have taken accountability for wrongdoing and turning a blind eye to abuse.
"Nassar is not the problem. He's a symptom of the problem. And they want to treat him like it's a one-bad-apple situation, and it's not," Denhollander said of gymnastics and Olympic officials. "They need to acknowledge the deep harm that was done to thousands of little girls by hundreds of abusive coaches in an entire abusive structure. Then they need to ask and get help answering the question, 'What can I do to make it right?'"
On June 15, the day before we spoke to Denhollander, she, Biles, and over 140 survivors filed a motion seeking the testimony of current and former USOPC officials. "That is to attempt to force depositions and discovery to take place during the [USAG] bankruptcy process. But we're just basically stuck there and just going around and around," Denhollander said. "USOPC and USAG are denying any fault, denying any duty, denying any responsibility, and that's sobering on a number of levels."
Now 35, a mother of four, and a published author, Denhollander said she's "learned to internalize and cling to the truth necessary for healing in an even deeper way." The fight continues, but she explained that she's given herself the freedom to grieve. "It's been helpful for me to recognize that I can identify the things that are evil because goodness does exist," she said. "If I can see the darkness, it's because there is light."