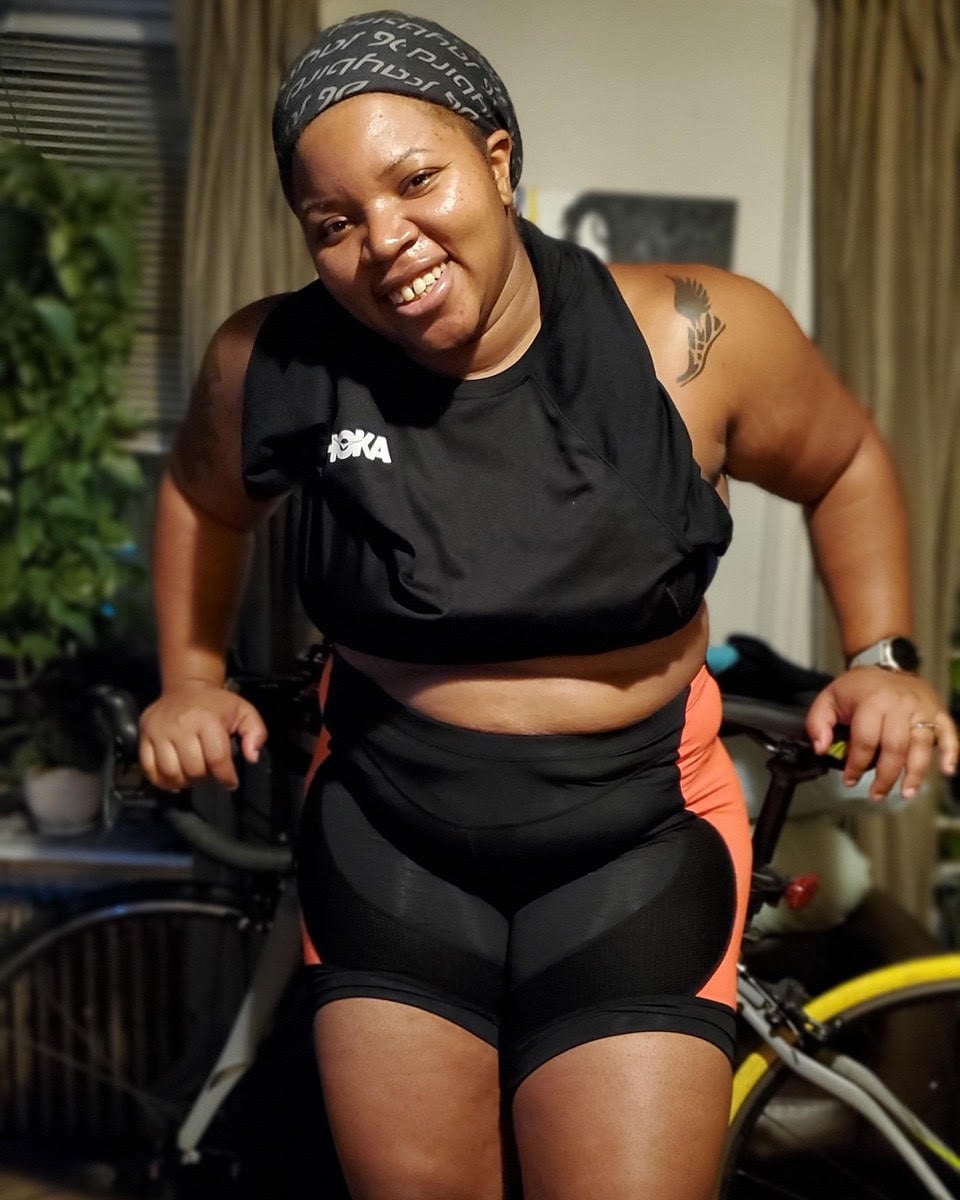 Image Source: Courtesy of Latoya Shauntay Snell
Sponsored athlete and writer Latoya Shauntay Snell started running in 2013. Her aim? Weight loss. What was supposed to be a single race turned into a lifestyle that she upheld not to shed pounds but to remain active and foster the sense of community she found. The longest Snell has ever completed is a 100K, or 62.1 miles, and the Bed–Stuy chapter of Black Girls Run motivated her to stick to running, she told POPSUGAR.
For her 35th birthday, Snell raised money for organizations set on supporting the Black community, and the ultrarunner tied each nonprofit's fundraising to a fitness challenge. To start, on May 31, she did a 100K bike ride indoors for the Minnesota Freedom Fund, which aids marginalized people facing bail and is currently directing donations elsewhere. Snell recognizes that protesters aren't just marching in their communities for George Floyd — "we were sick and tired of being sick and tired," she said — but donating to the Minnesota Freedom Fund, to her, was important as the nonprofit has vowed to help protesters arrested for trying to seek justice for Floyd and other Black Americans.
Then Tuesday, June 2, was a 13.1-mile run for the Audre Lorde Project, an NYC-based organization that supports people of color in the LGBTQ+ community. Snell specifically chose this organization because she said she's openly queer and wanted to give back for Pride Month. When it came to June 4's fitness challenge, she focused her fundraising on an organization empowering Black women in honor of Breonna Taylor; she completed a 100-mile indoor bike ride for Black Women's Blueprint.
"I love who I am. I love my skin, but I don't wish this oppression on anyone."
Snell raised over $16,500 across her three fundraisers, and she said that people have also been donating individually to those organizations if they had trouble doing so through Facebook, which totaled the donations to nearly $20,000. (Note: Snell also wanted to point out that artist Anna Brones offered to help raise awareness as well, giving a free Audre Lorde print to the first 100 donors who sent over their receipt.) Snell didn't expect the response that she got despite the fact that she has 45,000-plus followers on Instagram alone. "Even with the following, the moment that you ask people to open up their pockets it is like pulling teeth," she explained, adding later on in the interview that she set her expectations low for the fundraisers because "as Black people, we're so used to people not supporting us."
At times, when Snell has used her platform for something other than sports, she said that she's been gaslit and told to stick to sports. "I'll be damned if you box in my almost 35 years of living and [tell me] to stick to sports," Snell stated, "because before I stuck to sports I stuck to being Black, and the Black experience is hard. It's something that some days I don't wish on people. I love who I am. I love my skin, but I don't wish this oppression on anyone."
Snell said later on, "To be very honest, as a person who's been pulled over by cops three times for running in my own neighborhood since gentrification kicked in, it adds on to that anxiety for me as a Black woman." She wanted her birthday week to be a catalyst for starting crucial conversations around racism in America.
"Realize that you are essentially an influencer in your own home."
Having these conversations about racism with those close to you is key, Snell explained, and, for that reason, her birthday week signified so much more than donating money. "It establishes a base where we can truly grow and actually change the language that we've been carrying on for centuries to a different generation," she noted. "Ask the questions to yourselves of 'What can we do better in our own communities?' Realize that you are essentially an influencer in your own home."
It was the death of Ahmaud Arbery that inspired Snell to start a dialogue on her social platforms regarding how to give back to the Black community and support the antiracism cause, especially for her white followers, she said. "I was like 'I don't have all the answers. I will probably never have all the answers, but let me give them a resource of what I would do if I was in their shoes.'"
Before our talk came to a close, Snell spoke about the lack of inclusivity in ultrarunning. "This is a sport where people say it's inclusive, but I can tell you as a person who ventures into trail running, you don't see too many Black people out there," she said, adding that she gets confused for ultrarunner and author Mirna Valerio all the time.
Snell purposely documented parts of her fitness challenges on her birthday week to show her audience that it wasn't easy. "I think that the 100K and the 100 miles and the 13.1 [miles] from me was metaphorical because, as an endurance athlete, it is a struggle. There's no way to shortcut," she said. "You have to get through the miles, and it doesn't matter how long it takes. The miles are still the miles." She needed to highlight the fact that the discomfort she felt was only temporary. "Those people who lost their lives probably wish that they can go through that temporary pain because at least they would still be here," she stated.
"This was the birthday party that I never thought I would ask for, but this was the birthday party I needed."
The choices Snell made for her donations and dialogue-starters with her social media followers were deliberate. "I take every action that I make in this community and all the communities I represent — because as an athlete I don't get to just be an athlete, I have to be a Black athlete and a queer athlete — very seriously to the point where I know my life will never be the same," she told POPSUGAR. You can still donate to Snell's fundraising efforts on her Facebook page. "This was the birthday party that I never thought I would ask for," she said, "but this was the birthday party I needed."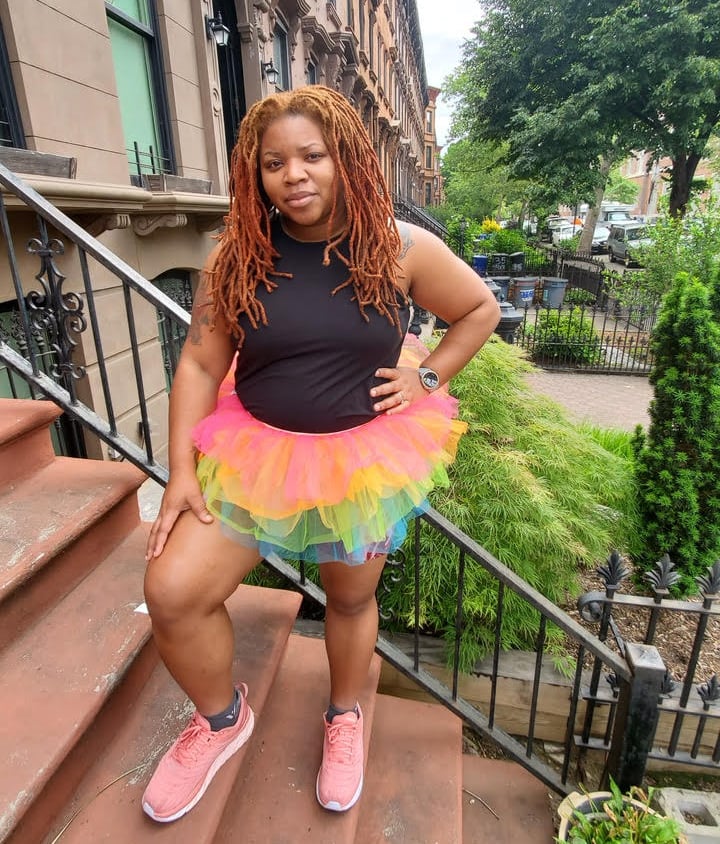 Image Source: Courtesy of Latoya Shauntay Snell